How many hats do you wear every day (and night)? Aside from being Managing Director, chances are you're…sales and marketing manager, HR person, accounts clerk, maybe site manager too…and very likely delivery driver!
But above all else I'll wager that you're the estimator. A job so time-consuming that it takes you away from full-time managing the business and handling the jobs you've won.
And let's not get started on what it's doing to your free time – or lack of it.
But there is another way –
and it's outsourcing…
Not delegation. You won't need to train us. There won't be any trial and error. And you won't have to contend with holidays, sickness or National Insurance.
It's a solution that reduces your workload without impacting on the quality of the output (depending on who you use!). After all, you're not just looking for an extra pair of hands; you're looking for a skilled pair of hands.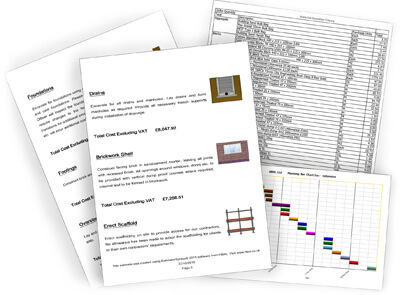 The team at HBXL Estimating Service has your back; here when you need us, whether for the quick in-and-out jobs or the heavy going projects. And the process of outsourcing is really straightforward:
Send us your plans via email or website
Include your specification notes (if possible)
Share your anticipated project start date, and we'll even provide you with a suggested build programme. (And if you want to, give us your personal terms such as labour rates and typical mark-up).
That's it!
What about the unknowns?
We'll discuss any significant queries we have with you, and we'll also include a schedule of estimate assumptions so you're absolutely clear on what has and hasn't been included in your estimate.
In return, you'll also receive:
Detailed cost reports by Build Phase and by Resource Type
Detailed schedules (materials/labour/plant) by Build Phase and by Resource Type
Quotation for your client (as an editable MS Word file)
Take a look at a sample pack.
But don't wait until you reach maximum capacity – outsourcing your estimating needn't be just for 'overflow'.
Why not consider putting this vital part of your business entirely in the hands of expert estimators.
Some other advantages of outsourcing?
We're 100% focussed on the job in hand – estimating is what we do – we won't be distracted by deliveries, issues on site, phone calls from customers or cries for homework help…
The time we free up for you will allow you to think more about the business – or less – when you want a holiday, night off, weekend and so on.
So can you let go? Can you do it? Some roles are harder to give up – and some just aren't transferrable. But estimating is one that can definitely be outsourced – to the right partners.
Start with a phone call with me. Or ping over your digital plans (PDF, JPEG or BMP) via the website here. You have nothing to lose. We'll give you the cost for producing the estimate, without any obligation. And there's 20% off your first job. You won't look back!
Before you know it you'll have increased your capacity and expanded your offering. There's no easier or more affordable way.
estimatingservice@hbxl.co.uk 0117 916 7894
Ian is the HBXL Estimating Service Account Manager